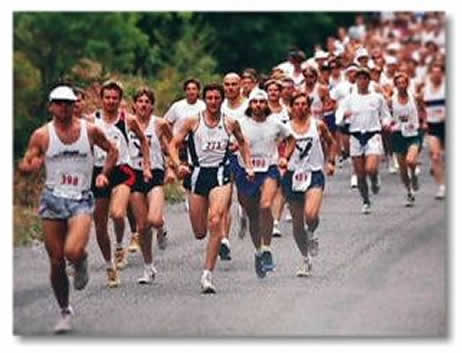 On Wednesday last week I decided to run the half-marathon in the Sunburst race this weekend in South Bend. It's a fun race, with about 1500 runners starting at the College Football Hall of Fame downtown and finishing on the 50 yard line of the Notre Dame football field. Originally I thought I was going to be out of town for son #2's soccer tournament in Indianapolis, but when the schedule came out, it turned out that we didn't need to leave our northern latitude until after noon. So on Wednesday I went out to run 10 miles to see if I might be ready for a 13.1 mile race. It felt OK, so I anted up the $65 fee, not really knowing how it would go. As it turned out, I ran the fastest half-marathon of my life, finishing 12th out of 91 runners in my age group.
Now, this is interesting. I'm not an elite athlete. I ran cross country in high school and was nothing spectacular on mediocre teams. I was an occasional runner for most of my adult years, but then about four or five years ago I started running more seriously as a way to fend off middle age. I've finished two marathons (crashing pretty bad at the end of both), but I've started training for six of them. In the other four, my body didn't hold up through the training. Which brings me to my main topic for the day. Last October I got injured two weeks before the marathon I had signed up for. It was a calf injury that came on after a twenty miler, and I had to bail out of the marathon. In the wake of that experience, I joined the group of guys at Bethel doing
CrossFit
. Since then, I've been pretty faithful at doing CrossFit workouts (3 or 4 days per week) and not as faithful running (only 1 or 2 days per week). I was curious to see how that would affect my running fitness. Seems to have affected it pretty well.
Three years ago, I ran this same Sunburst half-marathon course in 1:43:03. According to my running log (which I keep meticulously), in the six weeks leading up to that race, I had run 117 miles, including five runs of 8 miles or more (including two 10s and a 12). This year I ran the course in 1:39:24, and in the six weeks leading up to it I ran only 71 miles, including only two above 8 miles. But evidently the CrossFit workouts add something. These are typically short (less than 15 minutes) workouts at a very high intensity. There are lots of pushups, pullups, burpees (remember
this post
), box jumps, and medicine ball tosses (as well as a bunch of screwy things). And we do Olympic lifts like dead lifts, clean and jerks, and snatches. The overall philosophy is to emphasize core strength and overall body fitness. We occasionally do some running as part of the workouts, but it is usually 400m intervals or less. We did do a 5k a couple of weeks ago, which I gutted out in 21:30 on a fairly hilly course.
I think the core strength and overall fitness helped. There is probably some benefit in these workouts similar to doing sprints, because we are always in anaerobic territory. But I suspect that another big benefit has been the practice at pushing myself. I am a solo runner, but CrossFit is done in community. That encourages good-natured competition, and pride can often keep you going so that your comrades don't see you quit. That sort of attitude helps develop the mental side of running. In the race yesterday, I very consciously kept an easier pace at the beginning because I wanted to be able to push it at the end. So my first few miles were at 7:50 pace. But by midway I started pushing a bit more and just kept going. Mile 13 was my fastest mile at 6:58. Fun stuff.
There is one other possibility that could account for the good run: my music playlist. My family thinks it is (more than) a little funny that I often listen to lectures while I run. But for this one I decided to put together a custom playlist. It worked pretty well. I pulled some songs that had a running-themed message, and some worship songs, and some that were just audio assaults that made my legs keep moving. Here's the list:
Awake my Soul - Mumford and Sons
Here is our King - David Crowder Band
Forget and not Slow Down - Relient K
Farther Along - Josh Garrels
Run for the Prize - Petra
Afterlife - Switchfoot
Carousel - Paper Route
Rawkfist - Thousand Foot Krutch
Alive - P.O.D.
Meant to Live - Switchfoot
Other Side of the World - KT Tunstall
Names that Fell - Zach Williams
Magnificent - U2
O Praise Him - David Crowder Band
Your Love is a Song - Switchfoot
The Cave - Mumford and Sons
Viva la Vida - Coldplay
Mysterious Ways - U2
Smack Down - Thousand Foot Krutch
Comatose - Skillet
Second Wind - Petra
Fire it Up - Thousand Foot Krutch
Rebirthing - Skillet
The Messenjah - P.O.D.
You are my Joy - David Crowder Band
American Dream - Switchfoot
It played out pretty well. I finished during the second to last song.
I'm already registered for a marathon in October because I was able to defer my entry from last year. We'll see if this CrossFit and music combination can carry me twice the distance.